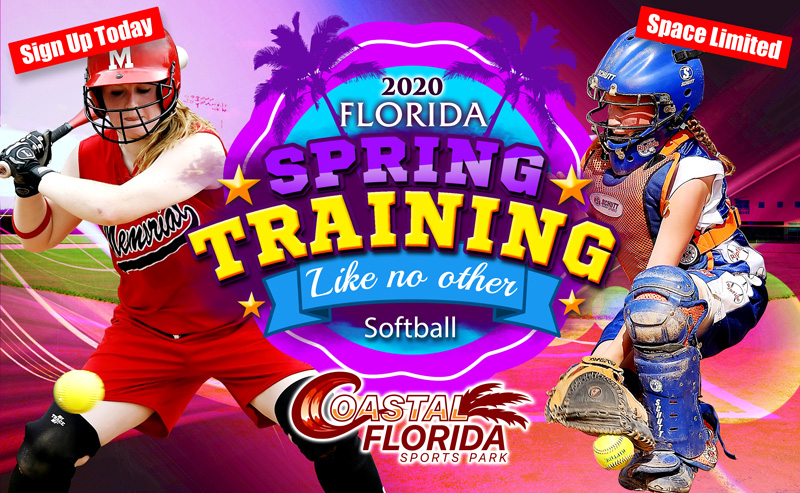 February 1 – April 30, 2020
$150 $99 per Coach / Player per Night

4-Night Minimum
Welcome to the Coastal Florida Sports Park, the premier fastpitch facility in the country. Our spring training program allows teams to eat, sleep practice and play all at one facility. With onsite Player Hotel, Coastal Café and first-class practice and playing facilities, your team won't need to go anywhere else. Take a moment to check out our website and see all that we have to offer. If you have any questions feel free to contact our office at 321-639-3976, or use our contact form, and a member of out team will answer any questions you may have. Don't settle for the old county/city-maintained facilities. Our facilities are brand new and have the latest in turf technology. All of our softball fields are real grass. No fake stuff here! Our fields boast the newly created grass by the University of Georgia – TifGrand Bermuda. Come try us and be treated with respect. We are sports people that have been in sports our entire lives and know exactly how to operate a first-class facility that will provide service like no other place in the country. Don't be fooled by the others and get roped into the logistical nightmare spring training can be – traveling to hotels, restaurants, fields.
HOTEL & RENTAL CAR REQUIREMENTS
All teams, families, and friends participating in Coastal Florida Sports Park events, are required to either stay:
In our on-site player suites or
At one of our many host hotels. We have a wide variety of hotels to choose from, whether you are looking for the best rates or full-service hotels.
Additionally, all team transportation must be booked through Coastal Florida Sports.
Teams choosing to book their own hotel or team transportation outside of Coastal Florida Sports Park, must pay Coastal Florida Sports Park:
$20 per player per night for hotel
$30 per day per vehicle
DO NOT CALL THE HOTELS / TEAM TRANSPORTATION COMPANIES YOURSELF
Failure to abide by the preceding restrictions will result in removal of your team from the event without refund.
Note: Teams are not confirmed at their Coastal Florida-contracted hotel until a team representative verifies the reservation made by Coastal Florida Sports directly with the hotel group sales manager.
Spring Training
Teams: All payments for hotels and team transportation must be received no later than 30 days prior to your team's arrival or Coastal Florida Sports may not be able to guarantee your reservation.  Hotels for parents may be paid later.
It is recommended that teams register early as our special group rates are only for a limited time.  Rooms rates for parents / families may vary from team rates. For last minute parent and family rooms, or if you would like to speak with someone about our host properties, feel free to call 321-639-3976 or use our contact form.
REFUNDS
Coastal Florida Sports Park offers no refunds on any of its programs, events, tournaments, leagues, etc. We will retain 100% of your fee(s) if you decide to pull out of any program, event, tournament, league, etc. However, you may be granted credit for future events on a case-by-case basis.
OUTSIDE FOOD & DRINK
** NO TEAM OR INDIVIDUAL FOOD OR DRINKS / COOLERS ARE ALLOWED IN THE PARK **
Please respect this rule. Violators will be asked to leave the complex and may be trespassed. Fresh ice water is provided in every dugout for each team's use.
PHOTO CONSENT RELEASE
By entering the Coastal Florida Sports Park property and grounds, each individual or guardian thereof, hereby grants the Coastal Florida Sports Park or its affiliate, its directors, officers, employees, agents, and designees (collectively "COASTAL") non-revocable permission to capture my image and likeness in photographs, videotapes, motion pictures, recordings, or any other media (collectively "Images"). I acknowledge that COASTAL will own such Images and further grant the COASTAL permission to copyright, display, publish, distribute, use, modify, print, and reprint such Images in any manner whatsoever related to COASTAL business, including without limitation, publications, advertisements, brochures, website images, or other electronic displays and transmissions thereof. I further waive any right to inspect or approve the use of the Image by the COASTAL prior to its use. I forever release and hold the COASTAL harmless from any and all liability arising out of the use of the Images in any manner or media whatsoever, and waive any and all claims and causes of action relating to use of the Images, including without limitation, claims for invasion of privacy rights or publicity.
SPRING TRAINING GATE FEES
$10 per day / person
Free for Coaches, Players in uniform, Kids 8 & under